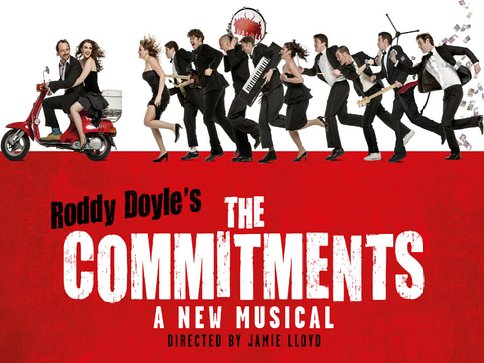 The Commitments is the story of Jimmy Rabbitte, a young working class music fan, who shapes an unlikely bunch of amateur musicians and friends into an amazing live act, the finest soul band Dublin has ever produced. The show follows the journey of two members of a frustrated synthesizer band – the opening scene we find them playing but being ignored in a shop window – who turn to Jimmy, the local music expert, for help.
Placing a classified advert in a music paper, Jimmy auditions a number of wannabes before finalising the new line up who he names The Commitments. The humour kicks in as the band get to know each other and their instruments, and proceed through early rehearsals for their first gig. Just as they improve and begin to get a name for themselves they combust. The backing singers are all getting off with the middle aged horn legend, the singer has entered Eurovision and the saxophone player has dangerous leaning towards a jazz career.
Featuring soul classics Night Train, Try A Little Tenderness, In The Midnight Hour, Papa Was A Rolling Stone, Save Me, Mustang Sally, and many more.
Cast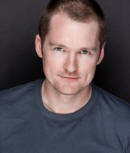 Killan Donnelly - Deco
Killian is originally from Dublin, Ireland.
Theatre includes : Raoul in The Phantom of the Opera (Her Majesty's Theatre), Enjolras in Les Misérables (Queen's Theatre), before which he understudied and played the roles of Jean Valjean and Javert, Collins in Michael Collins (Cork Opera House), Sweeney Todd (Gate Theatre, Dublin), Ethan Girard in The Full Monty (Olympia Theatre), Tony in West Side Story (The Solstice), Declan in The Wireman (Gaiety Theatre) and Rod in Singin' in the Rain (Olympia Theatre).
Concerts include : The Phantom of the Opera 25th Anniversary (Royal Albert Hall), Courfeyrac in Les Misérables 25th Anniversary (o2 Arena), You Should Be Dancing (National Concert Hall, Dublin) and Les Misérables (Bournemouth Symphony Orchestra, Isle of Wight).
Television includes : Showbands (BBC), The Last Furlong (RTE), Batchelors Walk (RTE), The Tudors (BBC), The Late Late Show (RTE) and Open House (RTE).
Films include : Combeferre in Les Misérables (Working Title Films) directed by Tom Hooper.
Most recently: Tony in Billy Elliot the Musical (Victoria Palace Theatre)
Click here for a preview video
When: Sunday 29th June, 2:30pm
Price: £39.50 but if we manage to get 40 people or more the price drops to £35. (Normally £65 including fees)

Seats are in the Dress Circle.

Where: Palace Theatre, Shaftesbury Avenue, London, United Kingdom, W1D 5AY
If you'd like to see the show, please let me know as soon as possible. The more seats we sell the cheaper it becomes so please tell your friends.
Click here to e-mail me or text me on the usual number.
I'll need full payment by Tuesday 27th May to secure your ticket.

Please note:
The cast may change at short notice due to illness or unforeseen circumstances.