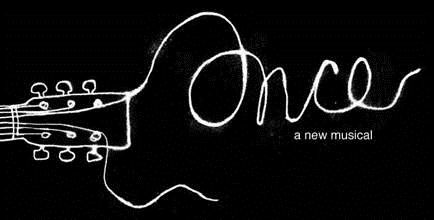 Based on the much-loved Oscar-winning film, Once is an extraordinary, original and irresistibly joyous celebration of love, friendship and music.

When an Irish busker and a Czech girl meet through a shared love of music, their songwriting sparks a deep connection and a tender, longing romance that neither of them could have expected. Winner of 8 Tony® Awards in 2012, including Best New Musical, and a 2013 Grammy® Award, this unique stage adaptation takes you right to the heart of the action in a rapturous production.

An exhilarating love story that refuses to play by the rules, performed by an extraordinary cast of actor-musicians, Once dazzles with invention, wit and unforgettable music.

Featuring all of the magical songs from the original film, including the Oscar-winning "Falling Slowly", this achingly beautiful, thrillingly inspirational show strikes an unforgettable chord and truly dares to be different. How often does a musical like this come around...
Cast

Declan Bennet - Guy
Declan Bennett is a singer songwriter who writes candid pop music for a generation steeped in therapy and conversation. His penchant for sharing deeply honest tales of love and sexuality have won him a diverse and devoted fan base across the UK and America, arousing a relentless desire to listen to his unashamed, engaging lyrics again and again. No stranger to the stage (with mainstream chart success by the age of 20, a lead role in the award-winning pop biography 'Taboo' at 21, and an extended trip to America to star as Roger in the cult rock opera Rent), Declan released his second full-length album An Innocent Evening Of Drinking in April 2008. He went on to open for Boy George on his 31 date UK tour, widening his ever expanding audience of listeners and soon after was asked to return to the States to join the original cast of Green Day's American Idiot on Broadway. Last summer he also starred alongside singer/songwriter Nellie McKay in his first feature film Downtown Express and his most recent music video for his song 'Freer' won Most Moving Video at the RightOut Video Music Awards. His 3rd album 'record:BREAKUP', is out now.

Zrinka Cvitešić - Girl
Born in 1979 in Croatia, Zrinka Cvitešić began her career as a teenager in youth theatre in her native town of Karlovac, playing Cinderella.

After finishing high school where she studied music, and having graduated from the Academy of Dramatic Arts in Zagreb, she joined the Croatian National Theatre (HNK) where she performed in numerous stage productions.

Zrinka's performance in Branko Ivanda's feature film Horseman brought her plaudits from critics around the world. The movie itself won awards at international film festivals, including Best Period Film and Best Script at the Houston Film Festival.

Zrinka's second leading role, Tatjana in What Is A Man Without A Moustache? won her several awards, including The Heart of Sarajevo Award and Best Actress Awards at the Sarajevo Film Festival, the Golden Arena Festival and the Pula Film Festival. The film was internationally acclaimed and a Croatian box-office hit in 2006.

Most recently she starred in My Beautiful Country directed by Michaela Kezele. Zrinka won the Bernhard Wicki Award for Best Actress at the 2012 Münich Film Festival.

Zrinka is also an accomplished dancer and in 2007 won the inaugural season of the Croatian version of Strictly Come Dancing/Dancing With the Stars. She occasionally sings at jazz festivals, clubs and on TV shows.
Click here for a preview video
Tickets
I have top price tickets in the Stalls:
Price: Ł35 (usually Ł67.50)
Seats are in rows G - L

Where: Phoenix Theatre, Charing Cross Road, London, United Kingdom, WC2H 0JP
When: Saturday 14th December, 2:30pm
If you'd like to see the show, please let me know as soon as possible. Click here to e-mail me or text me on the usual number.
I'll need full payment needed by Friday 20th September to secure your ticket.

Please note:
The cast may change at short notice due to illness or unforeseen circumstances.