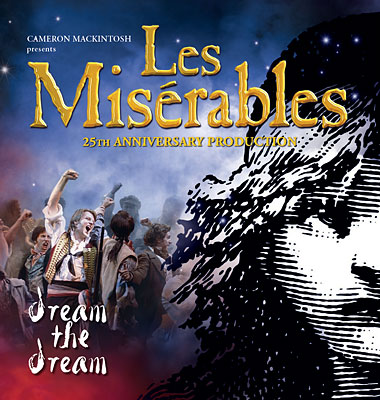 Cameron Mackintosh presents a brand new 25th anniversary production of Boublil & Schönberg's legendary musical, LES MISÉRABLES, with glorious new staging and spectacular reimagined scenery inspired by the paintings of Victor Hugo. This new production has already been acclaimed by critics, fans and new audiences and is breaking box office records wherever it goes...
Based on Victor Hugo's classic novel, LES MISÉRABLES, this musical is an epic and uplifting story about the survival of the human spirit. The magnificent score of LES MISÉRABLES includes the classic songs "I Dreamed a Dream", "On My Own", "Stars", "Bring Him Home", "Do You Hear the People Sing?", "One Day More", "Empty Chairs at Empty Tables", "Master Of The House" and many more.
John Owen Jones - Jean Valjean
John is a British musical theatre actor, best known for his portrayals of Jean Valjean in Les Misérables and of The Phantom in Andrew Lloyd-Webber's The Phantom of the Opera. He most recently appeared as Valjean in the Broadway revival of Les Misérables.
Earl Carpenter - Javert
Earl has played principal and title roles in a number of prolific productions such as The Phantom of the Opera; The Witches of Eastwick; Sunset Boulevard; The Merry Widow; Les Misérables; the Scottish Première of The Secret Garden and Disney's Beauty and the Beast.

Gareth Gates - Marius
Gareth became head chorister at Bradford Cathedral when he was 11 years old, singing for the Queen at the age of 13.
As runner-up in the first ever Pop Idol, Gareth has since had four number one singles and sold 3.5 million records in the UK alone.
Over the past 18 months Gareth has appeared on ITV1's Dancing on Ice, participated in the Dancing on Ice UK tour; starred as Prince Charming in Cinderella at the Wimbledon Theatre opposite Joanna Page and Alistair McGowan, and taken on the lead role of Joseph in the West End production of Joseph and the Amazing Technicolor Dreamcoat.
Click here for a preview video