Thirty-five years after the ground-breaking original Broadway production, the sensational and iconic musical Dreamgirls comes to London's West End later this year. The 2006 film version starred Jamie Foxx, Beyoncé Knowles, Eddie Murphy, and Jennifer Hudson.
The show opens in December, with Glee's Amber Riley starring as 'Effie White'.
"Inspired by R&B music acts in 1960s America, Dreamgirls transports you to a revolutionary time in American music history. Dreamgirls charts the tumultuous journey of a young female singing trio, from Chicago, Illinois called 'The Dreams', as they learn the hard lesson that show business is as tough as it is fabulous and features the classic songs 'And I Am Telling You I'm Not Going', 'I Am Changing' and 'One Night Only' "
Dreamgirls is set to be one of the hottest shows in London.
Cast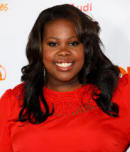 Amber Riley - Effie White
Amber is best known for her portrayal of Mercedes Jones on the series Glee. She is also known for winning season 17 of Dancing with the Stars.
The rest of the cast to be announced.
When: Saturday 21st January 2017, 2:30pm
Price: £72.50 Dress Circle, £49.50 Grand Circle(No booking fee)
Where: Savoy Theatre, Strand, London, United Kingdom, WC2R 0ET
If you'd like to see the show, please let me know which tickets you would like by Saturday 16th April.
Click here to e-mail me or text me on the usual number.
I'll need full payment by Saturday 16th April to secure your ticket.

Please note: The cast may change at short notice due to illness or unforeseen circumstances.